Muay Thai Gym Thailand
Welcome To Santai !
Sankamphaeng, Chiang Mai, Thailand.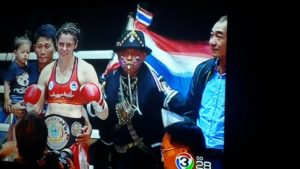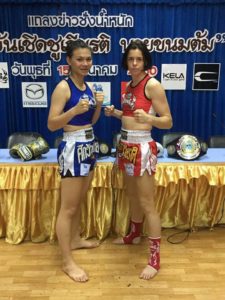 Claire Baxter is the new WPMF World Champ!
Claire Baxter, Australia has been with us for a few years now and she got the win against Mangkonkao at the Nai Kanomtom WPMF show in Ayuttaya! Congrats to the big win, Claire!

Thailand Pinsinchai Joins as a trainer at Santai Muay Thai!
Thailand is a legend of the sport from the golden era of Muay Thai and by many considered the best trainer there is in the world with many stadiom champs as students from his work as head trainer at the topgyms in Bangkok!
Welcome Thailand!
Jordan Graham is the new WKA World Champion at 57 kilos! He won the tournament in Italy with more than 90 nations competing! Congrats Jordan!

.
.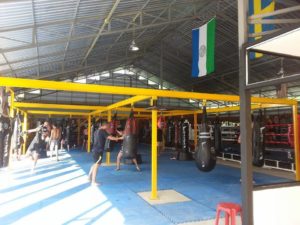 .
Featured News:
Erin W. Santai is the new Lanna 8 provinces Champion and Sawsing sor Sopit wins 50 000 Baht!
 ……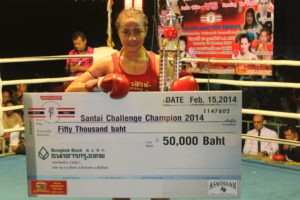 Click here

to read the full article!
.
Santai Impression Video:
.
Training Video:



.
Training and Fighting at Santai Muay Thai Gym:
Are you a beginner looking to train Muay Thai in Thailand?
Are you an intermediate level Muay Thai student looking to improve your technique, conditioning, and possibly looking to start fighting in the ring, in Thailand?
Are you an advanced level Muay Thai student or fighter looking to gain professional fighting experience in the ring against Thai fighters, in Thailand?
Welcome To Santai Muay Thai Gym.
Santai Gym has a strong team of experienced trainers that teach all levels of students, from beginners to professional fighters. Santai accepts students of all levels, and works them to get them to the next level. Whether you have only been training for a few months, or are out of shape and wanting to start learning Muay Thai, or are already at a fighter level and have been fighting in your home country, you are welcome to improve your Muay Thai at Santai Gym.
Beginners and intermediate level students improve very quickly at Santai Gym. Our staff of trainers are world class, and teach with patience, detail, and repetition. As a beginner you do not have to worry about falling behind in training due to your conditioning or lack of ability, as Santai strives for a training system that helps you improve individually, yet being pushed collectively together as a team with the rest of the students in efforts to obtain one goal, and that is for all of our students to get better at Muay Thai.
For the more experienced students, we are here to help you get to the next level as well. Santai is always looking for students who want to get into the ring and fight, and become better fighters, as this is what the art and the sport of Muay Thai is all about. Whether you are a current student training at Santai, or a prospective student looking to join us, if you have the aspiration of fighting in Thailand, against Thai fighters, in Thai stadiums, and at Thai festival events, then you have come to the right place.
*Santai does not keep or take a cut out of your fight money winnings. Fight winnings are usually 2000 – 3000 baht (may be higher depending), and you are only expected to tip your trainer / corner men out of courtesy. The amount you share is at your discretion!
Check out our trainer's page to view our team of professional trainers, who have fought at the top Muay Thai Stadiums in Thailand, and who have been at the top of the Lumpinee Stadium fighter rankings. These trainers are here every day, teaching and sharing their knowledge with beginners, intermediates, new fighters, and experienced fighters.
VIDEOS:
Beginner:                                      Intermediate:                              Fighter:
.
Santai Gym invites and welcomes students of all levels to train, learn, improve, and experience Muay Thai at Santai Muay Thai Gym, Sankamphaeng, Chaing Mai, Thailand.
.
Santai Gym Walk Around Video
.
.
Santai is a Muay Thai gym located in Thailand. The gymnasium was opened in 2002 by two trainers named Kru Do, Daodern and Kru Pon, who are all former Pinsinchai gym fighters, and have been affectionately teaching and taking care of Thai and foreign students since the beginning.
*Santai Muay Thai Gym – Intro Video*
By Martin Mavic – www.flashmavi.com
We have a series of videos done at our gym by Martin Mavic who showed up at our gym on April 20th, 2011. He came to train Muay Thai, and take videos of authentic Muay Thai techniques in Thailand.
Here are some videos  that Martin made of Muay Thai technique at Santai Muay Thai Gym,
Muay Thai Elbow Strike – Kru Pon and Ton W.Santai:
Muay Thai Jab – Kru Pon and Soklek W.Santai
Muay Thai Fighter Stance – Kru Pon and Soklek W.Santai
More videos can be viewed on Martin's website www.flashmavi.com, and on his youtube channel FlashMavi
Thank you Martin for making these great videos of authentic Muay Thai techneque, and we hope to see you back soon.
Enjoy the videos,
-Santai Muay Thai Gym
What is "Santai" ?
Santai is the name of the gym and the village where we are located in the town of Sankamphaeng, Chiang Mai Thailand. The foremost temple called 'Wat Santai' is located 20 meters from the Thai Boxing Gym, situated on land which is owned by the temple. The close proximity of the temple only adds to the cultural experience of Muay Thai training in Thailand.
We Hope You Enjoy Your Stay Here,
Thank You,
Santai