Welcome

to Santai Muay Thai:
The home of Northern Thailand's #1 most technical authentic Muay Thai team of trainers:
Dont worry about training at a gym that is over-crowded with students, and not getting enough trainer attention. Santai puts a limit on how many students are training at any given time, and makes sure there is always one trainer per 3 – 4 students.
Instructor (Kru) Profiles:

Kru Phon / Phon Narupai (head trainer) :
Kru Pon is one of the head trainers at Santai Muay Thai. Kru Pon started training in Muay Thai at the age of 15, and his former trainers immediately discovered his raw talent, and he was a promising up and coming fighter. When Kru Phon became good enough, he left his home town in Lumphun, and went to train and fight at the famous Pinsinchai Gym in Bangkok. Phon had a great career fighting in Bangkok. He fought amongst top fighters and moved up the ladder of top fighters, eventually becoming a top fighter himself. Kru Phon was a top ranked Lumpinee Stadium fighter, and was ranked #2 at Lumpinee Stadium. Kru Phon became a famous and a legendary fighter when he was in his prime, in his 20's, and Muay Thai enthusiasts from the days when Pon used to fight still speak of him, and remember how great of a fighter he was. Phon was a Lumpinee Stadium regular, and raked up around 70 fights at Lumpinee. He was a household name for Muay Thai fans. Kru Phon is a specialist at seeing openings in his opponents and quickly attacking them, and this is what everyone knew him for – his speed. Phon also has a twin brother named Lop, who was also a Muay Thai star alongside Phon. They were known as the Muay Thai fighting twins, and again, are both remembered till this day all around Thailand.
Kru Phon's teaching styles is heavily based on teaching proper Muay Thai technique, while teaching you the fighting benefits of what you are doing. Phon will not stop showing you proper technique until you get it right. Phon can answere all your questions about Muay Thai technique as he was a top lumpinee fighter of the early 90′s.
Phon is dedicated to teaching Muay Thai, and loves teaching and passing down his knowledge and techniques of Muay Thai down to his students and fighters.
Some of Kru Phon's famouse sayings at Santai are: "HANDS UP!", "BALANCE, BALANCE !", "BLOCK BLOCK!", "RELAX, RELAX!". Everyone gets a kick out of hearing Phon's sayings around the gym.
Stats & Fight Record:
56kg
48 years of age
200 Fights, 180 Wins
70 Fights in Lumpinee
A – Class Lumpinee Stadium Fighter
Lumpinee Stadium #2 Rank
.
Kru Doh / Anantachai Pinsinchai (Head Trainer):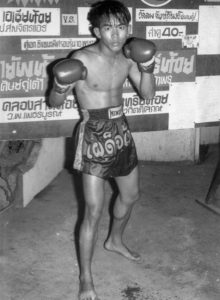 Kru Doh was born and raised in Santai, San Kamphaeng. He started Muay Thai at the age of 10, and trained at a back yard gym that was run in the village. Doh was a great fighter, though his main strength was in the clintch, and dominated his opponents with knees and elbows while clinching with them. As he became a much better fighter, he also moved to Bangkok, and trained at the Pinsinchai Gym. This is also where he met Kru Phon, and they have been friends ever since. Fighting and training in Bangkok, Doh went up the ranks in the sport, just like Phon did, yet he never became as accomplished and as prized of a fighter as Phon did. Doh was a frequent fighter in the top stadiums in Bangkok, and is also still spoken of around Thailand for his dominating clinch that he used to defeat countless opponents back in the day.
Kru Doh's teaching style is heavly based on proper technique, just like kru Phon. Doh knows Muay Thai in and out, and will share all his Muay Thai knowleage with you.
Kru Doh also has a specialty in training beginners, and teaching specific techniques to push beginners to the next level. After training with Kru Doh, all your questions about your technique will be sorted out.
Kru Doh's favorite thing to say is "AHHH GOOOD!!", when his students do a technique he's showing them properly.
Stats & Fight Record:
55kg
44 Years of Age
100 Fights, 90 Wins
B – Class Lumpinee Stadium Fighter
.
Kru

Apple:
Apple has been around Santai Gym since the Siam No.1 Days and is an energetic and
happy trainer. He is loud and highly motivating when teaching.  He has raked up around 300 Fights and has fought at the top Bangkok stadium, Lumpinee.
Apple is also a Northern Thailand Champion.
Apple is very particular about making sure you are balanced and that you have your hands up.
Apple's favorite thing to yell out at his students is: "CHECK BALANCE! CHECK BALANCE!!".
Stats & Fight Record:
Age: 34y
Weight: 55 – 60 kg
Height: 167cm
Record: 300 fights, fought at Lumpinee
Northern Thailand Champion
.
.
Kru Nan / Policenoi Pinsinchai
Everybody who trained with Kru Phon Narupai or Anantachai Pinsinchai (Kru Doh) knows this is good news as they are old friends from Pinsinchai and fought alongside each other creating the famous style of muay thai they use.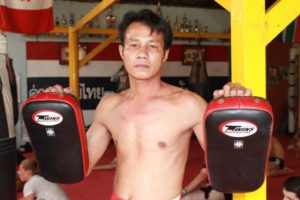 Kru Nan was one of the famous Pinsinchai/Narupai superstars during the gyms greatest years in the 80-90:s, he has about 70 fights at Lumpinee stadium and about 20 at Rajadamnern stadium and in total maybe 300  fights.
After his fightercareer he remained loyal to Pinsinchai gym and worked there as a trainer until just recently! What this man does not know about Muay thai is not worth knowing..he has been working with top fighters such as Thailand Pinsinchai in the past and Manasak Narupai recently.
Stats & Fight Record:
* 60kg
* 45 Years of Age
* 70 Fights at lumpini / 20 Fights at Rajadamnern
* 300 Fights Total
* A – Class Lumpinee Stadium Fighter
.
Kru Daeng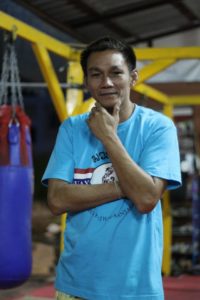 Kru Daeng also comes from the Famous Pinsinchai camp in Bangkok where he fought and trained with the rest of our Pinsinchai trainers in their younger years.
Daeng is famous for his powerful round house kicks and his intelligent and methodical fighting style, very much like Kru Phon's. Daeng has upwards of 250 fights ranging across the top stadiums in Bangkok with around 70 fights at Lumpini stadium, where he held the #2 ranking.
At Santai, Kru Daeng fits right in, working with his old pals and doing what he loves – sharing his passion for Muay Thai. Daeng is a humorous bad-boy who loves to joke around, but is serious when it comes down to training.
Stats & Fight Record:
56kg
45 years of age
250 Fights
70 Fights in Lumpinee
A – Class Lumpinee Stadium Fighter
Lumpinee Stadium #2 Rank
.
Meet Lop Narupai! Does the name and face look familiar?..Thats because Lop is Phon's twin brother! Lop's wrap sheet and fighting history is quite similar to Phon's, as they were known as the superstar twin fighters back in their prime. Lop was consistently within the top 5 rankings at both Lumpini and Rajadamnern Stadiums back in his prim, and was known for his technical skill and high fight IQ / intelligence, just like Phon!
Stats & Fight Record:
60kg
48 years of age
~200 Fights
A – Class Lumpinee & Rajadamnern Stadium Fighter
.
Pimsiam is a former Auswindam Channel 9 Stadium champion at 72 kg. He is a big boy in size, and loves getting into the ring for sparring and clinching with the students.
Stats & Fight Record:
72kg
22 years of age
200 Fights
Auswindam (Channnel 9) Champion