Review by
Loukas A.
from Thessaloniki, Greece
10 out of 10
"Santai Gym is a great place to train! There are talented trainers for every level, the gym is well equipped, the accommodation is more than you would have expected for a Muay Thai camp and the town is remote enough to keep you focused, but also has most of the things you might need along with the cheapest massage place I have ever been to (which comes VERY handy). If I decide to go back to Thailand for Muay Thai, Santai will be my first and only choice."
BookMartialArts.com website, edited
Review by
Dean
from London
"As a complete beginner to Muay Thai, with a last minute decision and a quick search on Google I feel like I completely lucked out in choosing Santai Gym. I was only here for two weeks in between other travels, my main purpose was to get in shape and lose some weight (which I did, 4.5kg!). To an amateur turning up to such a place it can be an intimidating experience with the thump of pads being kicked, the shouts from the trainers and grunts from the fighters but after the first morning session we were made to feel right at home. The facilities, location, accommodation and, last but not least, the trainers are all perfect for such an experience. Only on doing some further reading did I realize we were being trained by such absolute legends in the Muay Thai game. They take they training seriously with a great sense of pride but do so with an amazing sense of humour and although they make you work hard, you have fun whilst doing it. There is a real family feel about the gym and after two shorts weeks I had learnt so much and was sad to leave. I hope I get the opportunity to return in the future."
BookMartialArts.com website, edited
Review by
Kristen Tomajka
from Wollongong, Australia
"I am a beginner at Muay Thai and admittedly was very intimidated when I arrived at Santai, it seemed to be full of professionals and, as I had expected a lot of males. After my first session I knew there was no need to be intimidated, the trainers and all the students were very friendly and welcoming and only happy to help out. The two training sessions per day are intense but varied and you are never left feeling bored, you do however feel a few aches and pains in areas you didn't know a muscle still existed! When I look back at this experience I really can't believe the value for money, you are with word class trainers, who put a smile on your face every day, in a small village in Chiang Mai with a very friendly community, and have a private room with your own double bed, fan and fridge, with all facilities easily accessible. I also loved the fact the gym has a family vibe and you are also training with Thai students. I cannot thank the gym enough for whipping me back into shape and showing me what I am capable of and never giving up on making sure I had the correct technique. For people who are worried about the atmosphere because they are doing it on their own, there is no need, most of the students I was training with were on there own and you quickly make new friends and barely eat alone, there are also options for social outings with the gym. I can't wait to return next year."
BookYogaRetreats Website, edited
Recent student Andrijana:
"I have been travelling and training full time at various Muay Thai gyms around Thailand for 5 months. Santai Muay Thai is amongst the best gyms I have encountered.
The trainers are all not only exceptional former (and some current) fighters, they also really know how to teach! They hone in on an individual's particular skill set, and really drill out bad habits, and teach you how to exploit your strengths. They are also incredibly patient, they will not allow sloppy technique to slide!
The afternoon session consists of five 5 minute pad rounds, for which Santai is renowned. This means you will basically be getting a private session every day, half an hour of one on one time where you are pushed, encouraged, and will step out of the ring exhausted, smiling and feeling achieved.
Socially, the gym fosters a family culture – the students eat together, enjoy Sunday's off together and generally help each other out. The trainers encourage us, are patient and always make us laugh. I live at the gym accommodation (Chaidee House) which is my favourite gym accommodation in Thaialnd so far. It is recently built, very clean and comfortable.
Lastly, the cost of living in Northern Thailand will be a huge relief for those used to Phuket prices. I can't say enough positive things about this gym and the community in which it is found! It offers excellent training, in a great setting, for the right price, and is excellently managed and maintained.
I wish i started my training here at Santai instead of Phuket.."
Review by Dino Chai from Auckland, New Zealand:
9 out of 10

"I had a great time at Santai. It is a fantastic gym with awesome trainers and a great vibe. I truly enjoyed my stay there; met some good friends; went back for an extra 3 weeks training after traveling and will go back again when I can."

February 20, 2014. BookMartialArts, edited
https://www.bookmartialarts.com/santai-gym/2-weeks-muay-thai-training-in-chiang-mai-thailand#reviews
Review by Masumi Namiki from Melbourne, Australia:
10 out of 10

"I had a great time in Santai. It was an amazing experience for me, as this was my first time in a small town outside Chiangmai. Ood has been really helpful in picking me up from the airport and giving me information about San Kamphaeng.The people training there are very laid back and friendly, and the environment is really good for those who are training.

The trainers are all very patient and friendly, and they are all very focus in the basic before progressing to the next level. The training is at your own pace, which is really good as I could practice by myself and the trainers will correct me personally instead of training in a 'structured' training program.

I also found that it is really good for beginner to attend the morning session, as there are less people training and the trainers are able to spend more time with beginners like me. I would definitely stay there longer to learn Muay Thai if I didn't have my own traveling plan and learn from the trainers. I would visit there again in future."

January 26, 2015. BookMartialArts, edited
Review by Ng Ai Li from Singapore, Singapore:                                                       
10 out of 10
Bookmartialarts.com
Review of Santai by Student Ai Li July 2014:
Review by Ng Ai Li from Singapore, Singapore:                                                       
 "The gym was great. The instructors were patient, professional, and adjusted their instruction according to the students' ability. I was a little concerned about the training before going there but everything worked out wonderfully. I had a great time!"
https://www.bookmartialarts.com/santai-gym/2-weeks-muay-thai-training-in-chiang-mai-thailand#reviews
"Time to leave… My sincerest gratitude to everyone who made this a great experience. To the trainers, thanks for actually making me learn new things to make me better – most trainers just see that I'm big and have me smash holes in pads but I now genuinely have a whole new set of skills to begin to develop so thanks again. To the friends I've made, thanks for your kindness and for the fun times to get me through to 4pm every day. Keep in touch and take care of yourself. Cheers, Wild Hogs out."
(June 22, 2013)
Sabina Grasso:
Check out this students video training journal of day 10 of her training at Santai. She shows beautiful technique.
.
(March 17, 2013)
Mike Bacos (Chicago, USA):
"Thanks to training at Santai Muay Thai….I was able to land a job at Carlson Gracie's gym in Chicago." <does Asian poses>….that should be my testimonial for Santai for those wondering about career prospects outside of fighting <more Asian poses>."
(March 11, 2013)
Amber Rowe (Grants, New Mexico):
"Santai Crew,
Thank you so much for an amazing experience. Your patience, skill, and friendships made my time in San Kamphaeng so much fun. I hope to see you all again. Take care and good luck!
I'll miss San Kamphaeng and all the amazing friends I made here. Hope to see you all again soon!"
(March 10, 2013)
Arnaud Lambert (France):
"Big thanks to the santai club. We spent a very good time and bring back to Paris a lot of lessons."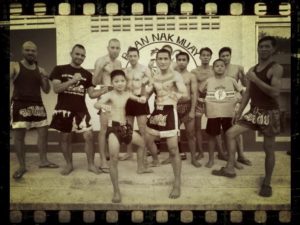 (March 5, 2013)
Alex Rondel (Montreal, Canada):
"Had a really great time at
Santai Muay Thai
. I will miss the place a lot! Big thanks to everyone from the gym, the staff and all the trainers! I wish the best to all the people i met there, train hard and enjoy your stay! ;)"
(March 1, 2013)
Samson Paras (Toronto, Canada):
"I find myself screaming in my toronto muay thai gym "hands up hands up" just because I miss that gym and thailand so damn much. Yes and I mean shouting,,loud,,to nobody but myself. great,,,now back to face the snow, and cold winds, intsead of pretty girls, warm weather, great people. -with Santai Muay Thai"
(February 25, 2013)
Robin Vyncke (Belgium):
"Had such a great time and I'm going to miss this place so much. Many thanks to everyone at
Santai Muay Thai"
(February 24, 2013)
Trevor McKenzie Jr. (USA):
"This is my Kru (teacher) Daeng.
Hes a brilliant teacher and believe it or not, in his own way a great role model. Hes taught me a ton of muay thai and more about being a decent person, takes absolutely nothing serious that he doesn't have to and gives even when he doesn't have much. Regardless of what happens from this point forward in my life I honestly will be able to brush it off because somewhere between him kicking ass, smacking me In the face when my hands were too low, laughing hysterically when I kick wrong and hurt myself, offering me a drink after practice, food at random, and going out his way to help me out I've become a stronger individual. Thanks Kru Daeng and
Santai Muay Thai
."
Trevor McKenzie Jr. (USA):
"I'm at Narita waiting for my flight to Chicago. Thanks
Santai Muay Thai
and shout out to the people I met out there. I had a blast and learned a lot as a muay thai practitioner and an individual. I will return."
(February 16, 2013)
Nor Ton (Australia):
"Last day of an awesome month with the brilliant team at
Santai Muay Thai
. I can see why people come back for more, highly recommended, we'll be back for more. Back to Chiang Mai tomorrow, Bangkok the day after, and Kathmandu the day after that. Sad to leave Santai, but Nepal is calling :D"
.
(February 10, 2013)
Samson Paras (Canada):
"Hello Santai, I really didnt get a chance to properly say goodbye. Great training, excellent trainers. it really felt like home with the environment you guys have there. I never once felt like an outsider at all. thanks for everything, and see you guys soon. when my next trip to thailand, I have to come again to santai. Learned a lot, and got into better shape. thanks"
-Samson Paras (Canada):
"This place is the BEST gym im so glad I came here. you can NOT find a better place!!"
(October 29, 2012)
–

Stephanie Lefevre (France) Video:
Stephanie was a long term student at Santai from france. After returning home to France she sent us this awesome video of her experience at Santai!
-Gregory J. Bamberg (USA) Writes:
.
"Santai Muay Thai Gym was great fun this week…great training, learned a lot, met some cool people, ate some good food, and felt very welcome by the Kru's and by Nik and Ood. We decided to treat ourselves for our last night in Thailand."
(October 14, 2012)
–Ian Lawrence (Canada) Writes:
"I miss all of this… the crowing of the roosters, the slapping of the pads, the beeping of the ring bell, and even… no, especially Kru Doh's grunts!"
(August 2, 2012)
-Alex Moppa James Taylor (Australia) Writes:
"Santai muay Thai is one of the best gyms I've trained at!
The trainers at the gym all use very good methods of teaching the perfect technique in every strike and defenses skills and are very open to talk about muay thai.They have alot to show and we all have alot to learn from them, there knowlge of muay thai is unbelievable!  Just when I think im getting away with having a long water break they'll always come over and show you a new combination and a few little tricks which helps alot, plus they always like to make you push really hard on the pads haha! Its a really good gym to be amongst, the vibe and hospitality the best I've ever reicved there all really good people! Can't wait to get back there and get the training in and have a couple fights! "
(
Just like Danial Williams Moppa hails from "Khao Sok" gym in Australia.
.
Moppa:
– World Amateur Heavyweight kickboxing champ
– Australia Muay Thai heavyweight Champ  
(July 28, 2012)
-Danial Williams (Australie) Writes:

I am gladly returning to Santai because it is my preferred gym in Thailand.
I have trained in gyms in Chaing Rai, Bangkok…
and the south of Thailand, but Santai appealed the most because the first time I went there for a month i learned more than I did in 6 years of training in Australia.The santai trainers provide so much attention to technique and balance. They don't just hold you hard pads and train you hard like the other gyms I've been to in Thailand, even if you are a foreigner they still teach you the best technique and skills they were taught through there well accomplish careers, especially when the majority of trainers trained under general Pinsinchai back in the day when they were top Bangkok fighters and Lumpini etc.
And kru Apple I've never boxed someone so skilled him being a commonwealth boxer.Over here you get hard 'fight ready' training your technique is getting perfected the trainers don't let an error in technique slip and correct you straight away or punish you with push ups or a flick in the ear when doing pads.
Another positive with Santai and another reason why I will return for many years is the location and friendly welcoming nature of the gym. I now have life long friends from the gym your always happy there and in the quiet relaxed place of Sankampaeng is everything you need with the city only being 20mins away and attractions very close to.
The locals seem friendly, everything is cheap and the temple right in front of the gym makes it an extremely special peacefully place.I could go on about w. Santai and how its one of my favorite places in the world and how much the gym has to offer for me but I am looking forward to returning next year and staying longer to keep learning and become a better stronger fighter, because I know W.Santai will help me achieve this!Dan Williams is soon to be Pro at Santai, and holder of 4 belts in SE Australia:
– Wkn featherweight WA Champion
– AMF Featherweight
– Bantamweight Champion
– WMC WA Champion in Australia.
(July 24, 2012)
– Fergus Casey (Ireland) Writes:
" thanks to everyone at Santai – Nik,Ood,Phon,Doh,Daeng,Apple,Lek,Nan and Paul for helping me out and being such good people, goodluck to all the students and the lads staying on long-term. It was a great experience in my life at the gym. I hope to come back next year for a month or so if all goes well and smoke free!.I had to hold back a few tears when leaving… Take care everybody!! "
(July 18, 2012)
– Blade Haggarty (England) Writes:
."just wanted to say a big thank you to everyone at the gym its was an amazing 4 months i started to get a bit emotional gettin on the train an leaving you all. will definitely be coming back to visit again"
(July 12, 2012)
-Thomas Miller (New South Wales) Writes:
.
"The biggest shout out to my thai family at 
Santai Muay Thai
. especially ood, nik, phon, doh, nan, apple, deang, lek and mong. You guys have been so great helping me lost 20 kilos. im forever blessed to have you in my life and you will remain family for life. 10 more kilos to go…"
(July 8, 2012)
-Lora L. Abe (USA) Writes:
.
"Thank you again for a wonderful month! I had the best time in Thailand because of you. (: "
.

Thank you all for the kind words! You have been great and we loved having you here, hope to see you again!
-Santai Gym