79 Moo 8 T.Sankamphaeng
Sankamphaeng, Chiang Mai
Thailand, 50130
Santai Village: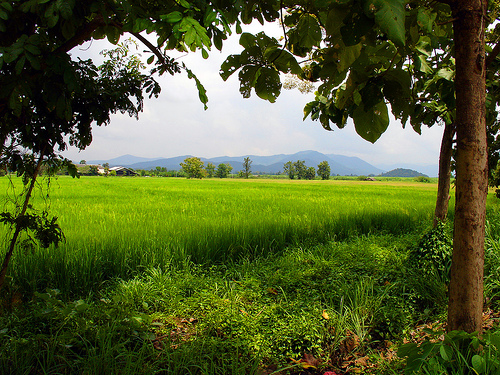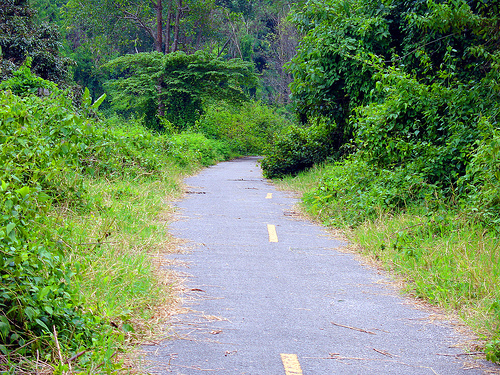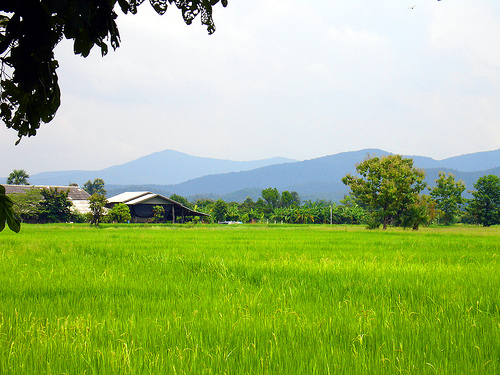 Santai is the name of the village in the town of Sankamphaeng that our gym is located in. Also, the village's temple, which is called "Wat Santai", is situated only 20 meters from the Santai Muay Thai Gym. Training here, is a traditional, and true way to study and train muay thai. The only distraction here is the rooster which wakes you up for your morning run at 5:30am. This village is also the home of one of our head trainers Kru Do, who grew up here, and has been living here his whole life, other than the years he spend fighting in Bangkok.
Things To Do in Santai Village:
Train Muay Thai Every Day!!!
Town of Sankamphaeng
The town of San Kamphaeng is best described as a Thai countryside, and is located 13km's from Chiang Mai City. Such a location is ideal for a focused Muay Thai Fighter and Student, no distraction, pure training. Santai Muay Thai Gym is located in the heart of San Kamphaeng, with a large food market only
a 10 minute walk away from the Gym. This market contains food vendors, laundry shop, 7/11, Internet Café, banks, pharmacies, and a Tesco grocery store. Training in this town, is a great new experience for someone who has never been to such a remote location. Some may even experience a great deal of culture shock at first, as the scenery may be like they have never seen before. Doing your daily runs here, you will be running through back roads, filled with farms, and various animals roaming the land such as water buffalos, cows, horses, chickens, and many more.
* There is also a hospital here in San Kamphaeng, and it is located only 4.6km from Santai Muay Thai Gym. This is a fully equipped hospital with English speaking doctors, and a pharmacy.
Things To Do in Sankamphaeng:
Visit the Saturday Sankamphaeng Night Market

(Food, Deserts, ice cream, fruit shakes, toys, cloths, souvenirs, etc)

Internet Café

– Up to date computers and high speed internet. Send messages to your home, friends and loved ones through email and facebook.
San Kamphaeng Hot Spring- Bathe in natural hot spring water, and enjoy the beautiful scenery

Cock Fighting & Beetle Fighting

– Thai locals take pride in cock fighting, and Rhino/ KabutomushiBeetle fighting. It is also a great way to pass time on a Sunday evening, and gathers friends around for a little betting and competition.
Chiang Mai City:
Chiang Mai city is located 700km north of Bangkok, and is the capital city of Chiang Mai Province. Chiang Mai city is also commonly known as the "Northern Rose", and is the largest city of Northern Thailand. It is a growing, and modern city, and it is a great place to go spend time on the weekend, after a hard week's training. Chiang Mai is located along the Ping River, among some of the highest mountains in the country, and central Chiang Mai has a population of 150,000 people. In Chiang Mai, there is everything from nightlife entertainment, restaurants, pubs, internet café's, malls, movie theaters, waterfalls, temples, tourist attractions, and everything else that any major city has. Chiang Mai is also the home of Kawila Muay Thai Stadium, which is the most prestigious stadium of Northern Thailand.
Things To Do In Chiang Mai City:
Watch Live Muay Thai Fights-

There are various Muay Thai stadiums in Chiang Mai, with fights being held on a weekly basis. These stadiums include Kawila, Loi Kroh, and Tae Pae, of which Kawila displays the highest level of Muay Thai in Chiang Mai.

Doi Suthep Mountain / Temple / Waterfall-

This is sacred and famous temple to the Thai people, which is located at at the top of the Doi Suthep Mountain. This mountain is 1,676 meters high, and breathtaking views of Chiang Mai City can be seen from the ride up the mountain and the temple at the top. There is also a relaxing waterfall at the base of the mountain which is a great place to go to soak in the cool water, and enjoy some sticky rice and chicken from the local vender.

Nigh Bazaar-

A strip of shops located on Chan Klan Road in the heard of Chiang Mai City. This is one of the biggest tourist attractions in the city. The Night Bazar has shops that sell jewelry, knock off clothing items and accessories, DVD's, high tech gadgets, and souvenirs. There is also a McDonals, Burgur King, Subway, and Starbucks at the Night Bazaar if you find yourself feeling home sick .

Sunday Night Market-

This is a large market that takes place every Sunday night on Tae PaeRoad, in Central Chiang Mai. The street is closed down, and is filled with vendors much like in the night bazaar, and masses of people walk the street and purchase bargains from the vendors. There is also a huge food court that is exclusive to the Sunday market where vendors and restaurants gather and sell their foods. This is a great place to go to try and lean some new Thai food, since they are all there in one convenient location.
Thailand
Thailand is an Independent country, located in the heart of South East Asia. Thailand is a Kingdom, and a constitutional monarchy with King Bhumibol Adulyadej, who is the 9th king and has reigned since 1946. It has a population of about 65 million people, is often referred to as "The Land Of Smiles" due to the friendly nature of the local Thai People. This is also one of the reasons why so many tourists and foreigners fall in love with Thailand, and return to visit very often.
Thailand is also the mecca of Muay Thai, and is the #1 place to travel to, to learn this sport. Muay Thai is the national sport of Thailand, and there are countless gyms, stadiums, and fighters here. There are 500,000 active fighters in Thailand, training and fighting at any given time. The level of Muay Thai is higher here, than in any other place in the World, and the best way to learn, is to learn with the best. Thailand is also home to Lumpinee Stadium, which is located in Bangkok ,Thailand, and it is the most prestigious and famous Muay Thai Stadium in the world.
Coming To Thailand:
There are at least two important things you need to note before making your trip to thailand:
Vaccination:

You may need to receive the appropriate vaccinations from your doctor before traveling to Thailand. These will include Hepatitis, and various Flew shots.

Visa:

Tourists get a 1 month visa on arrival. If you are planning to stay longer you must apply for 1 or 2 entry tourist visa from Thai Embassy in your country.
Coming To Santai Muay Thai Gym:
step-by-step instructions:

Landing In Bangkok:
Once you land in Bangkok, you will have to travel to Chiang Mai. There are a few ways of doing this. You may take a bus, train or take a flight. Bellow we will list simple instructions on how to come to Chiang Mai from Bangkok with the 3 methods mentioned abode:
1. Bus – 10 hours – (400-800 Baht / 12-25 $US) – "Mo Chit" Bus Station in Bangkok:
The bus station that you will need to go to is called "Mo Chit". The easiest way to get to Mo Chit bus station from BKK Airport is by taxi. Make sure to ONLY get a taxi with a meter, because non-meter taxi's will over charge you for the ride. The Bangkok to Chiang Mai bus usually starts departures at 8:30AM, so if you arrive over night, you will have to stay at the airport until the appropriate time comes to go to the bus station. Once you get to Mo Chit bus station, look for a Chiang Mai booth, which will have a sign written in English. Purchase a ticket from there, and make your way to Chiang Mai. The bus ride is 10 hours long, and is a great way to see Thailand on the way from Bangkok to Chiang Mai. Also, there are different classes of buses from regular to "v.i.p" which is more spacious and comfortable. Though the regular buses are good enough for most travelers, and are also the cheapest. When your bus ride from Bangkok ends, you will arrive at the "Arcade" Chiang Mai Bus Station, which is only 12km's away from Sanatai Muay Thai Gym.
2. Train- 12 to 14 hours ( 800-1200 Baht / 30-40 $US) – "Hualampong" Railway Station in Bangkok:
Traveling by train from Bangkok to Chiang Mai is favored by travelers because they can sleep on the overnight sleeper train. Though the train is more expensive, and takes longer to reach Chiang Mai than the bus. The train also passes through some amazing mountain ranges and sights such as Doi Kuntan National Park, and is also great for seeing some of Thailand on land rout. The train ride from Bangkok to Chiang Mai takes about 12 to 14 hours to complete. There is food and drinks sold on the train, as well as a washroom. Once the trip is complete, you will be arriving at the Chiang Mai Railway Station, which is about 12km from Santai Muay Thai Gym.
3. Plane- 1 hour – (1500-2500 Baht / 50-85 $US) – BKK Airport to Chiang Mai Air Port
Taking a 1 hour flight is the most convenient way to come to Chiang Mai after landing in Bangkok. It is also the most expensive way to get to Chiang Mai, with flights costing up to 2500
Baht ( 85 $US). Also, flights only start at 8am to 9am, so if you arrive at BKK airport over night, you will have to wait at the airport until boarding. Chiang Mai airport is 17km's away from Santai Muay Thai Gym.
Arriving in Chiang Mai:
Once you arrive in Chiang Mai at either the bus station, train station, or airport, it is very simple and easy to get to Santai Muay Thai Gym. We can either pick you up in the Santai Gym Truck, or you may come by tuk-tuk or taxi. Pick up by the gym truck will cost 500 baht (16 $US) to cover gas cost, and is the easiest way for you to come make it to the gym. Pick up by Gym Truck is available 24/7, whether you arrive in the day time or in the middle of the night. Coming by Tuk-Tuk or taxi will cost between 400Baht to 600 Baht depending on the price you agree on with the driver. You will have to direct the driver with the following directions:
San Kamphaeng

( the town which Santai Muay Thai Gym is located in)

Wat Santai

(the temple / landmark for the driver to get to. Santai Gym is adjacent to the temple)

Muay Thai Gym / "Kay Muay"

in Thai (let the driver know you are going to the muay thai gym
beside the temple 'Wat Santai')
*** If you take Tuk-Tuk or Taxi – Make sure you are dropped off at Santai Muay Thai Gym, and not another gym or location, making you take another Tuk-Tuk or Taxi and costing you more money***
If you take the steps mentioned above, you will have no troubles getting to Santai Muay Thai Gym! Congrats and Welcome!