Last night was an AWESOME fight night for W.Santai Gym ! November 18, 2011 at Kalare Stadium, Chiang Mai, Thailand. 3 of our fighters Nic, Geordie, and Matt, fought. Nic Dp W.Santai had a BATTLE of a fight against a strong thai fighter, and won by Elbow KO in the 3rd Round. Nic ended up with a cut above his right eyebrow and a few war wounds. Geordie Thomson W.Santai Fought an American Fighter and… lost after 5 rounds decision. This was Geordie's 2nd fight in Thailand and he is showing great improvement every week, and will keep getting better for next time. Matt Kirwan W. Santai also lost after 5 rounds decision to a Thai fighter. This was Matt's first ever muay thai fight, and he showed excellent muay thai technique in the ring, eventhough the loss.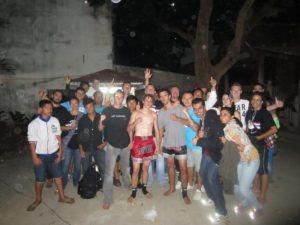 VIDEOS of these fights will be coming up shortly! They are all very exciting.
The Santai Team was very happy last night, and supporting our teammates in the ring!